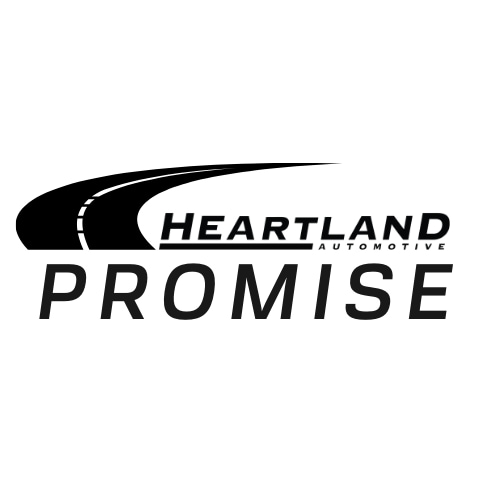 At the three friendly, hometown dealerships in the Heartland Automotive Group, our goal, every day and in everything we do, is to help keep the tight-knit communities we serve strong and vibrant. Because of that goal, we're not content to just sell cars. We want to create customers for life! We do that by offering the best service, selection and everyday values in Arkansas, standing behind the vehicles we sell and the work we do while giving everyone who walks through our doors the most for their hard-earned money. That's more than just another sales promotion. It's our promise to you, and to the communities we serve.
That's why Heartland Automotive Group is proud to introduce The Heartland Promise. What is The Heartland Promise? Simply put,
it's the best package of after-the-sale buyer protections and incentives you're going to find at any dealership anywhere in the state,
designed to give our customers more peace of mind, more individuality, and more for their buying dollar.  
1) Tires for Life:
No matter how many airbags and driver-assistance features vehicle manufacturers roll out in today's latest vehicles, your family's safety is still all about making sure the four, palm-sized patches of rubber directly under your tires keep a tight grip on the road. That said, because of the considerable expense, most of us have been guilty of trying to squeeze a few more miles out of our tires, potentially putting our family's safety at risk. Heartland Automotive Group is committed to making sure our customers stay safe on the road, and that's why the first part of The Heartland Promise is
Tires for Life!
Buy any new vehicle from Heartland and participation in the Tires for Life program gets you a brand-new set of tires any time you need them for as long as you own the vehicle. Even expensive, all-terrain tires or six-wheel heavy-duty truck tires: when your tires get worn, just bring your vehicle back to any Heartland location and we'll replace them. No fine print or cheap knockoff brands, just peace-of-mind and more money in your pocket, only from Heartland.
2) 60-Day Warranty On All Pre-Owned Vehicles:
When you buy a pre-owned vehicle from those big-city dealerships, unless you purchase an expensive extended warranty, anything that goes wrong with that vehicle is coming out of your pocket from the minute you drive off the lot.  It's different in the Heartland, though. We're confident in the quality of our pre-owned vehicles and we stand by the vehicles we sell and our customers, even when they can't afford to buy new. That's why the second part of The Heartland Promise is
a free, 60-day power train warranty on every pre-owned vehicle we sell with less than 200,000 miles.
If a pre-owned vehicle you purchased from a Heartland dealership quits, sputters, coughs or otherwise doesn't run to suit your needs within 60 days of your purchase, bring it back and we'll fix it, FREE! That's how confident we are in the quality of our pre-owned vehicle selection, and how much we want to make sure that every pre-owned car, truck, van or SUV we sell is a reliable vehicle you can count on. 
3) Free Delivery, Anywhere In Arkansas:
In today's fast-paced world, more and more Americans are turning to the simplicity and ease of buying vehicles through the internet. Heartland is committed to making sure your buying experience is hassle-free, and that's why The Heartland Promise also includes
free delivery of every vehicle on our lot, anywhere in the state.
Buy a new or pre-owned vehicle from Heartland, and we'll deliver it directly to your door anywhere in Arkansas, absolutely free! El Dorado to Eureka Springs, Marianna to Mena, just tell us when and where you want your new or pre-owned vehicle delivered and let Heartland's friendly sales associates do the rest. It's just that easy!
4) In-House Personalization and Customization:
You work hard to make yourself stand out from the crowd, and you deserve a vehicle that reflects your uniqueness and individuality.  That's why part of The Heartland Promise is
in-house customization of new vehicles.
Through our partnerships with top-quality aftermarket shops, Heartland can help you build the car, truck or SUV of your dreams, using only the highest-quality parts available, designed to fit your vehicle right and look great. Lift kits to alloy wheels, winch bumpers to light bars, custom tint to custom paint, if you can dream it, Heartland can deliver, and we can even figure the cost of modifications into your monthly payment. So if you want a ride that can really stand out from the crowd, don't settle for the same old vehicle! Come to Heartland and let us help you build a car, truck or SUV that is as unique as you are!
The Heartland Promise is not just another sales gimmick full of loopholes and fine print. It's the core of Heartland Automotive Group's commitment to providing our customers with the service, selection, savings and honest deals they deserve when shopping for their next vehicle. The only question left is: with an offer like that, why would you shop for your next new or pre-owned vehicle anywhere else? Stop in today at Heartland CDJR of Wynne, Heartland Ford of Heber Springs or Heartland Chevrolet Buick GMC of England and see how Heartland is changing the way people think about the car buying process, one great deal at a time. We promise you'll be glad you did.